A World of Innovation
When, in 1846, in the Palatine village of Laachen near Neustadt the farmer's son Conrad Freytag was born, nobody guessed that this clever boy would change construction all over the world.
With his entrepreneurial know-how, his visions and his persistence, he founded a company which set in motion the triumphal course of the new construction method throughout the world.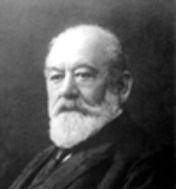 Driven to maintain excellence.
Conrad Freytag.
His motto was "Driven to maintain excellence" ("Nicht nachlassen zwingt") which is a commitment entered into by all employees of Wayss & Freytag to this day. Pioneering spirit and entrepreneurship were the forces behind this success story that has influenced the construction industry more strongly than possibly any other company in Germany.
1886: Germany's first bridge in prestressed concrete construction - a pedestrians bridge in a park in Neustadt/Haardt